Are you creating Instagram Reels for your brand yet? Basically Instagram's answer to TikTok, they're short videos (15, 30 or 60 seconds), designed to engage your viewers. Follow our Instagram Reels guide to create one.
Most social media platform algorithms are loving video at the moment and Instagram is no different. Also, because Reels are one of their latest offerings, they are prioritising them for sharing content with new audiences, so they're perfect for getting reach and awareness for your brand. They are practical also, with shopping and insights available. They're also being updated regularly with new features. So if you're looking to up your social media game, Instagram Reels is the way to go!
To explore reels
You can explore reels by clicking on the reels icon (it's front and centre at the moment as Instagram is prioritising it). We definitely recommend you spend some time exploring reels and current trends before you jump into making your own. When you're ready, follow our step-by-step guide to Instagram Reels below.
To make a reel
To make a reel, click on the + icon at the top of your screen and then, on the next screen, scroll across to 'Reels'.
From here, you can either press down the record button in the middle to record video, or add footage from your library by clicking the small icon on the bottom left with a plus sign on it. There are a number of creative tools you can use to make your reel.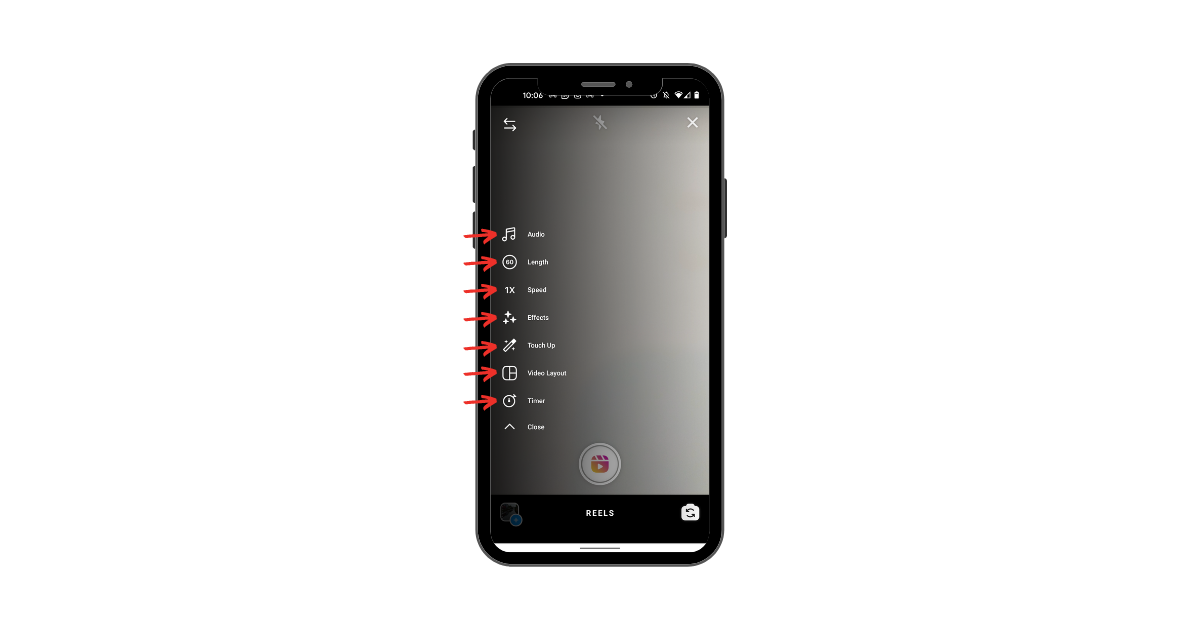 Audio: Select music from the Instagram library to add to your reel. You can also record your own audio. Using popular or trending audio can generate more exposure. Don't use music you do not have the rights for, as this will violate Instagram's brand guidelines and could result in your Reel being removed!
Length: Reels can be 15, 30 or 60 seconds long.
Speed: You can adjust the playback speed of your reel – 1x is normal speed, below 1 slows it down and above 1 speeds it up.
Effects: There are many effects and filters available for recording video for your reel, scroll across to view them and play around with them.
Touch Up: Use the slider to touch up or enhance your recording.
Video Layout: You can split your screen and add multiple videos.
Timer: Set the timer to record your video hands free.
If you're creating a video with voiceover, it can be helpful to add captions.
Once you've recorded and added your images/video clips, you can go on to 'preview'. In this screen, you have a number of options across the top –
Discard video (be careful!)
Download video to save it to your camera roll
Mix audio
Add voiceover
Add stickers
Draw a doodle on the Reel
Add text
For audio, you have options to adjust audio and to add a voiceover.
Here you can use the audio controls to adjust the volume of the video you recorded or uploaded and add pre-selected audio tracks from the Instagram library. You can also record a voiceover.
You can add text to your Reel and then adjust where it appears on the Reel timeline, if you want it to appear and disappear. When adding text, bear in mind that when shared to your grid, the Reel will be cropped to 4:5, so if your text is at the very top of bottom of the screen it will be cut off.
Once you're happy with your Reel, you're ready to share! Woohoo!
You can share reels to your grid, the explore feed and stories. For best results and reach, always share it to your feed (make sure 'Also Share to Feed' is toggled on).
You can add a separate cover to the Reel for your grid to keep it looking uniform. Do this by clicking on 'Cover' and 'Add from Gallery'. You can also tag the location.
You can also remove the Reel from your grid after 24 hours, but it is definitely advisable to save it there initially to get an extra awareness boost.
Write your caption and add any relevant hashtags (use 5-10 relevant hashtags at the end of the caption on your Reel, not in the Reel itself). You can also tag anyone you need to at this step. When you're done, click 'Share'.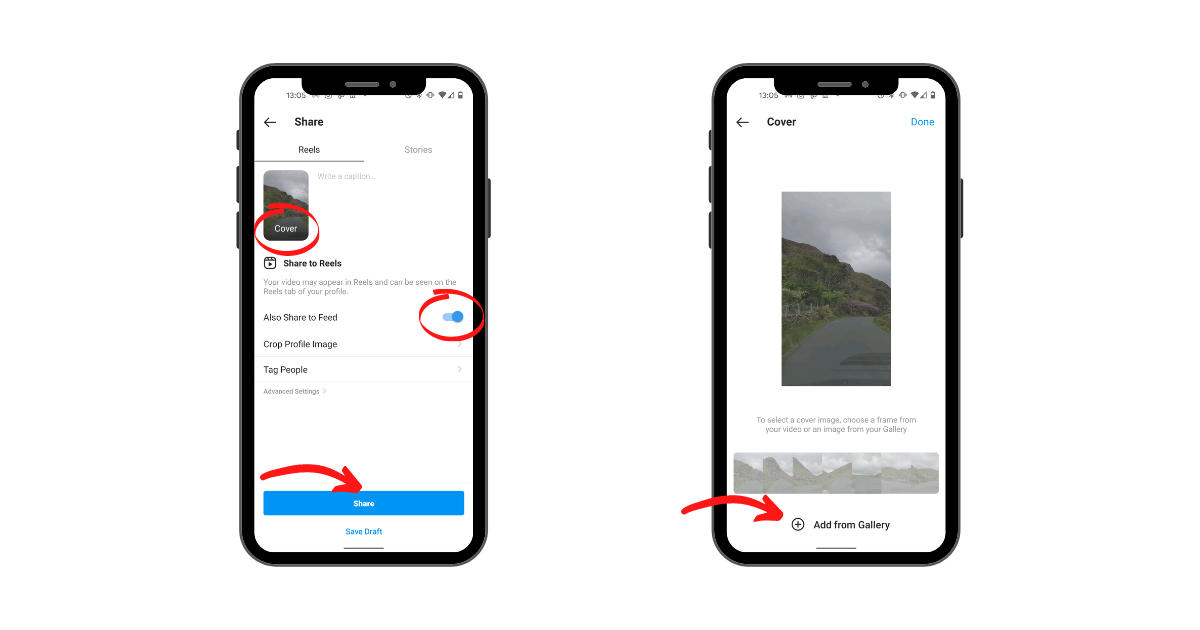 Some Tips for making Reels
Get creative – the more entertaining the content, the better!
Engage your viewers in the first 3 seconds to keep them watching.
Use vertical video.
Instagram wants you to use their product, so for the best results and reach, try to record and edit within the Instagram app. If you do use apps, like Canva for example, to create your reels, bear in mind that Instagram may crop around the edges.
The algorithm favours trending music and content – BUT – don't jump on a trend for the sake of it if it doesn't align with your brand.
Don't import videos from other apps if they have frames or watermarks or are low quality.
Only use audio you have the right to use. If you use trending audio from the Instagram library your Reels will get greater reach.
Most importantly, have fun! Reels are a great and enjoyable way to make unique content to showcase your brand.
We hope you found our guide to Instagram Reels useful! Check out some of the reels on our Instagram for inspiration. If you have questions, please feel free to reach out to us.